Swipe for more images
Proudly Canadian made from 100% recycled wood sources.Miyota watch movement with stainless steel crown and clasp.Hexagonal watch face with wooden bracelet and date. Read more
Spend $150.00 & get 10% off your order!
Offer automically applied at checkout. Free shipping included.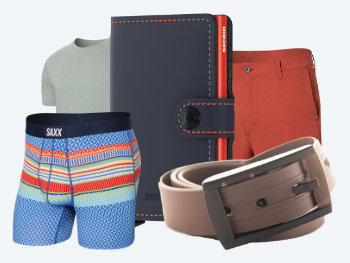 Product Description
This unisex watch shows hourly markers, calendar date, days of the week, 24-hour display on a hexagonal face. The Marmot Multifunction Watch is made from 100% recycled and reclaimed wood, with Miyota watch movement from Japan and is adjustable in size with stainless steel crown and clasp. 
Please note that due to the nature of wood, all products are unique, one-of-a-kind, and will differ from the one pictured on our website.
All Tense Watches are Proudly Made In Canada.
44mm
13mm
38mm
Stainless steel
25mm
2 Year Warranty
Tense Wooden Watches provides a 2-year limited warranty on manufacturer's defects present at the time of purchase. If your watch needs servicing or you have a warranty issue, please contact Tense for information about what they can do for you.
*Warranty guide (including terms and conditions) available at the tensewatch.ca. Warranty is offered and fulfilled by the product manufacturer and not our store.
Carbon Responsibility
Tense is certified carbon responsible. They believe in doing their part to help stop climate change. In partnership with Taking Root, they continue to offset an estimated 50 tonnes of Carbon Emissions annually by helping grow approximately 278 trees each year.
Shipping & Returns
We ship all orders directly from our Nanaimo menswear store to anywhere in Canada or the USA. Estimated delivery time 5 – 10 business days.
You will receive free shipping on all orders over C$75.00 to anywhere in Canada. For orders under C$75.00, a flat rate of approximately C$15.00 will apply.
We ship all items directly from our Nanaimo menswear store with Canada Post Expedited mail as our first preference delivery method. We aim to fulfill all orders within 2 business days. Once fulfilled, orders typically take between 5-10 business days to arrive depending on your location.
If you live nearby or are visiting Nanaimo, in-store pick up will always be a free option at our brick and mortar location. All our products are available for same day pick-up (no need to wait for email confirmation once the order has been placed).
Our retail store is located at 206 Commercial Street in downtown Nanaimo (V9R 5G7, British Columbia). Feel free to drop by during our opening hours, 10:00am - 5:00pm, 7-days a week. We will hold onto your order for as long as you need (no time limit for pick-up).
For Canadian orders We accept all returns, including change of mind returns, in exchange for store credit or alternative products. The products must still be in brand new condition with tags (it's ok if you've tried them on!). If you're returning for warranty or defective purposes, please contact us for more information as the process may be via the product manufacturer.
Unfortunately for hygiene reasons, socks and underwear are unable to be returned. For all other returns, we appreciate being contacted at 250.716.3331 or [email protected] within 30 days of receiving the product to initiate a returns process.
About Tense
Tense (noun): A set of forms taken by a verb to indicate time; One moment in time in relation to another moment in time. Past, present, future.
Tense products are designed and built around our core beliefs in quality and craftsmanship. In 1957, Ken P. Lau started his profession as a clock designer. He pioneered experimentation with natural components, such as wood and stone. In 1968, Ken moved his focus to wristwatches, and in 1971 Tense Wooden Watches was founded. Even now, Ken brings his over 50 years of experience as a crafter of timepieces to the workshop everyday.
Tense Watches designs high-quality wooden watches. They are made from 100% recycled or reclaimed wood, and are powered by premium Rondo 6004D Swiss Movements or Japanese Miyota Watch Movements. Each watch is manufactured by hand in their workshop in Vancouver, British Columbia, Canada.
Headquarters:
Port Coquitlam, British Columbia (Canada)
Specialties:
Men's & Women's Watches, Wooden Watches, Woodwork, Clockwork, Accessories
View More From Tense
About Our Store
NYLA Fresh Thread is a 100% locally-owned men's clothing shop operating on beautiful Vancouver Island, British Columbia. Owner Leon Drzewiecki opened the store in 2014 to support his three boys and to help boost his community with a place where anybody can enjoy shopping for high-quality menswear. Thanks to our wonderful customers, we've been lucky enough to win 'Vancouver Island Retailer of the Year' and 'Nanaimo Best In The City Menswear' on multiple occasions.
All of our products are from trusted brands as we believe that clothing should last you years in terms of both style and integrity. We always try our best to accommodate for every size, budget, and style with a clothing selection that ranges from the business styles of New York to the casual looks of Los Angeles.
Everybody is welcome to visit our store – we do not tolerate discrimination of any kind. If you have any questions or concerns, please feel to reach out to our team!