Add your review
Nickel Free Belt - Red
Swipe for more images
Hypoallergenic Silicone Belt with Nickel-Free Buckle. A vibrant red-coloured belt to bring joy to your daily routines and events. Read more
Spend $150.00 & get 10% off your order!
Offer automically applied at checkout. Free shipping included.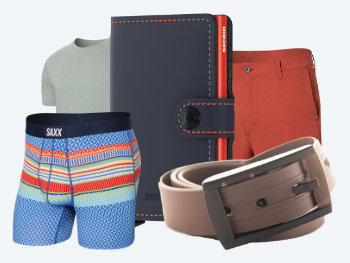 Product Description
Borel Unisex Hypoallergic Belt is suitable for all seasons and occasions. Crafted from Silicone.
Recyclable Material: All Borel belts are 100% Recyclable.
Metal-Free: No need to take your belt off at the airport as all Boral Silicone Belts contain no metal or Nickel. Perfect for those travelling and for those who have allergies. 
One Size Fits All: Every belt is built to be compatible with any size and gender. 
All-Weather Proof: Built to withstand the sun, rain, and cold. 
Shipping & Returns
We ship all orders directly from our Nanaimo menswear store to anywhere in Canada or the USA. Estimated delivery time 5 – 10 business days.
You will receive free shipping on all orders over C$75.00 to anywhere in Canada. For orders under C$75.00, a flat rate of approximately C$15.00 will apply.
We ship all items directly from our Nanaimo menswear store with Canada Post Expedited mail as our first preference delivery method. We aim to fulfill all orders within 2 business days. Once fulfilled, orders typically take between 5-10 business days to arrive depending on your location.
If you live nearby or are visiting Nanaimo, in-store pick up will always be a free option at our brick and mortar location. All our products are available for same day pick-up (no need to wait for email confirmation once the order has been placed).
Our retail store is located at 206 Commercial Street in downtown Nanaimo (V9R 5G7, British Columbia). Feel free to drop by during our opening hours, 10:00am - 5:00pm, 7-days a week. We will hold onto your order for as long as you need (no time limit for pick-up).
For Canadian orders We accept all returns, including change of mind returns, in exchange for store credit or alternative products. The products must still be in brand new condition with tags (it's ok if you've tried them on!). If you're returning for warranty or defective purposes, please contact us for more information as the process may be via the product manufacturer.
Unfortunately for hygiene reasons, socks and underwear are unable to be returned. For all other returns, we appreciate being contacted at 250.716.3331 or [email protected] within 30 days of receiving the product to initiate a returns process.
About Borel
Borel is a contemporary brand located in Vancouver, BC offering lifestyle fashion accessories. Inspired by the constant need for travel and a friend with a nickel-allergy, Borel created it's signature range of one-size-fits all silicone belts.
Once released, these belts quickly became a popular choice all across Canada. Their 100% metal free composition resonated with all the frequent flyers who no longer had to remove their belt at every checkout. The cut-to-size design made buying a belt simple. While those with nickel allergies or a distaste towards leather found a great belt in Borel (belts are vegan friendly!). As the company grew they expanded beyond the standard black and grey colours, now providing every colour of the rainbow. Accessories such as wallets and phone cases can also be found in their collection.
Headquarters:
Vancouver, British Columbia (Canada)
Specialties:
Belts, Accessories, Leather-Free Alternatives, Nickel-Free Alternatives, Silicone Products.
View More From Borel
About Our Store
NYLA Fresh Thread is a 100% locally-owned men's clothing shop operating on beautiful Vancouver Island, British Columbia. Owner Leon Drzewiecki opened the store in 2014 to support his three boys and to help boost his community with a place where anybody can enjoy shopping for high-quality menswear. Thanks to our wonderful customers, we've been lucky enough to win 'Vancouver Island Retailer of the Year' and 'Nanaimo Best In The City Menswear' on multiple occasions.
All of our products are from trusted brands as we believe that clothing should last you years in terms of both style and integrity. We always try our best to accommodate for every size, budget, and style with a clothing selection that ranges from the business styles of New York to the casual looks of Los Angeles.
Everybody is welcome to visit our store – we do not tolerate discrimination of any kind. If you have any questions or concerns, please feel to reach out to our team!