Add your review
Pear Wood Beard Comb
Styling & grooming tools are essential to keeping your beard healthy looking, clean, and soft. Big City Beards ethically produced Beard Styling & Grooming Tools will make maintaining your beard easy, keeping you looking and feeling your best all day. Read more
Spend $150.00 & get 10% off your order!
Offer automically applied at checkout. Free shipping included.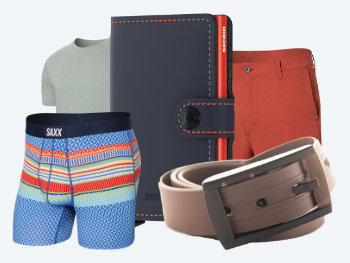 Product Description
Big City Beards real Pear Wood Beard Combs make your beard grooming routine quick and easy. Using the Fine Tooth Wooden Pocket Beard Comb, makes maintaining well groomed beard throughout the day, regardless of where you are. Wooden combs also do not generate static helping to avoid knots, tangled, and frizzy beard hair. They are softer than metal or plastic, making them less likely to cause damage to beard hair while grooming. Whether you are just starting your beard journey or have a well established beard, our fine tooth wooden beard comb is an essential tool for your grooming kit.
Product Details:
Fine Tooth Pocket Beard Comb
Ethical, Sustainably Sourced Wood
Makes Grooming Quick & Easy
Removes Knots & Tangles
Great for All Beard Types
Recommended Beard Type:
A natural wooden beard comb is a must for all beard types, and it is one of the first tools that you should use to comb and maintain your beard. It makes beard grooming and the application of beard care products like oils and balms easy to ensure the best results. Using a wooden beard comb in combination with organic beard oils and/or balms will, completely change the look and feeling of your beard.
Shipping & Returns
We ship all orders directly from our Nanaimo menswear store to anywhere in Canada or the USA. Estimated delivery time 5 – 10 business days.
You will receive free shipping on all orders over C$75.00 to anywhere in Canada. For orders under C$75.00, a flat rate of approximately C$15.00 will apply.
We ship all items directly from our Nanaimo menswear store with Canada Post Expedited mail as our first preference delivery method. We aim to fulfill all orders within 2 business days. Once fulfilled, orders typically take between 5-10 business days to arrive depending on your location.
If you live nearby or are visiting Nanaimo, in-store pick up will always be a free option at our brick and mortar location. All our products are available for same day pick-up (no need to wait for email confirmation once the order has been placed).
Our retail store is located at 206 Commercial Street in downtown Nanaimo (V9R 5G7, British Columbia). Feel free to drop by during our opening hours, 10:00am - 5:00pm, 7-days a week. We will hold onto your order for as long as you need (no time limit for pick-up).
For Canadian orders We accept all returns, including change of mind returns, in exchange for store credit or alternative products. The products must still be in brand new condition with tags (it's ok if you've tried them on!). If you're returning for warranty or defective purposes, please contact us for more information as the process may be via the product manufacturer.
Unfortunately for hygiene reasons, socks and underwear are unable to be returned. For all other returns, we appreciate being contacted at 250.716.3331 or [email protected] within 30 days of receiving the product to initiate a returns process.
About Big City Beards
Big City Beards was born out of beard care frustration and the desire for a beard grooming product line that was about more than just the product itself by provided organic benefits for both beard and our sacred earth.
It all began as a result of founder Jeff's frustration; why do some beard care products work, when others don't? Why do some beard care products clog the pores of your skin, leave your beard greasy, and/or generally do nothing more than smell nice? Serious questions for a serious beard frustration experienced by all our bearded brethren.
Jeff took the next logical step by putting together a Team of like minded bearded people and Big City Beards was born in 2019.The results were organic beard care solutions that worked and were based on traditional, proven formulations. Whether you have a full beard, soft beard, or styled beard, Big City Beards has the right organic products for you. No Beard Left Behind!.
Truly Islanders from humble beginnings, and with the "Island Spirit", Big City Beards are proud to make all of their organic beard care products in the harbour city of Nanaimo, located on Vancouver Island BC. A community rich in a history of hard working bearded men from the fishing, logging, and mining industries..
Headquarters:
Nanaimo, British Columbia (Canada)
Specialties:
Beard Oil, Beard Balm, Mens Grooming, Organic, Sustainably Sourced, Ethically Produced, and Beard Care.
View More From Big City Beards
About Our Store
NYLA Fresh Thread is a 100% locally-owned men's clothing shop operating on beautiful Vancouver Island, British Columbia. Owner Leon Drzewiecki opened the store in 2014 to support his three boys and to help boost his community with a place where anybody can enjoy shopping for high-quality menswear. Thanks to our wonderful customers, we've been lucky enough to win 'Vancouver Island Retailer of the Year' and 'Nanaimo Best In The City Menswear' on multiple occasions.
All of our products are from trusted brands as we believe that clothing should last you years in terms of both style and integrity. We always try our best to accommodate for every size, budget, and style with a clothing selection that ranges from the business styles of New York to the casual looks of Los Angeles.
Everybody is welcome to visit our store – we do not tolerate discrimination of any kind. If you have any questions or concerns, please feel to reach out to our team!