Add your review
Slimwallet - Saffiano Olive
Swipe for more images
Slimwallet - Saffiano Olive
The billfold reinvented. Lightweight RFID protected wallet holding 4-6 protected cards, 4+ extra cards, business cards, banknotes, and receipts. Genuine leather. Made in Holland. Read more
Spend $150.00 & get 10% off your order!
Offer automically applied at checkout. Free shipping included.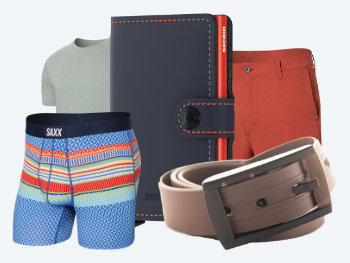 Product Description
THE BILLFOLD REINVENTED
The Secrid Slimwallet is a modern take on the classic billfold. With its slim profile it fits perfectly into every pocket. The generously cut leather holds at least an additional six cards, banknotes and business cards.
The patented mechanism allows you to slide out your cards with one simple motion, ready for immediate use. The aluminium protects from bending, breaking and unwanted wireless communication.
HOLDS
4-5 embossed or 6 flat cards
6+ extra cards
Banknotes
Business cards
Receipts
SIZE AND WEIGHT
68 x 102 x 16 mm
72 g
SAFFIANO
Saffiano leather is famous for its diagonal lines and cross-hatch pattern. Its a favourite finish for luxury leather goods for decades due to its timeless appearance, scratch resistant surface and long lifespan. Saffiano is corrected-grain leather, made in Holland from European cowhide.
EUROPEAN LEATHER
Leather is versatile natural product. It comes in many forms and is produced in a wide variety of ways and styles. Secrid choose to produce their leather exclusively in Europe; Germany, Italy and mainly in their home country of Holland. This way they can ensure their leather is of the highest quality and tanned under good working conditions with care and attention to the environment.
Saffiano leather, as used on this particular Secrid wallet, is a corrected-grain leather. Corrected-grain leather starts out as full-grain leather and is worked to create specific surface characteristics. By coating and sanding the leather Secrid can create a variety of feels and looks. Wallets made of corrected-grain leather are typically more resistant to water and stains.
CARE FOR YOUR WALLET
Leather is a natural material. Some irregularities may be visible on Secrid products, meaning no two wallets are exactly the same. Over time Secrid leather changes appearance by daily use and exposure to the elements. The leather chosen for Secrid wallets does not require any regular maintenance.
The Secrid Slimwallet Saffiano uses a water repellent leather. If your wallet does get dirty or wet, the leather has been treated so that the surface can be cleaned with a damp cloth. The leather is unlikely to absorb water or other materials. Therefore, we advise you not to use any polish, as this will only be superficial and actually rub off upon contact with your garments.
HAND MADE IN THE NETHERLANDS
By 2009 the wallet making industry had practically abandoned the Netherlands in favour of countries with cheap labour, unsuitable working conditions, and poor quality leather. Rather than following their competition overseas, Secrid developed a radically different product that could be manufactured both efficiently and environmentally friendly in the Netherlands using high-quality European leather and materials.
Every day, close to 100 people assemble Secrid products enthusiastically and with great precision at social enterprises in Leiden, Delft and Haarlem. Together with these colleagues, Secrid are constantly developing the tools and processes to maintain the quality of the product and the working conditions. After all the various components have been assembled, every wallet receives its unique serial number as proof of authenticity.
ENVIRONMENTAL FOOTPRINT
The cradle to gate impact of this product/wallet, packaging included, has the following environmental footprint in terms of greenhouse gas emissions, water usage and energy usage. The CO2-impact of the production of this wallet is 100% compensated. Feel free to visit Secrids sustainability page to find out how they take responsibility for their impact on the planet.
2.16 kg CO2-eq
32 litres
8.43 kWh
Impeccable European Craftsmanship
Industrial design and fashion come together in Secrid's pocket-sized essentials. All Secrid wallets are made in Holland with great care for quality, people and the environment.
Quick Access
The patented mechanism of all Secrid wallets provides a simple and fast way to access your cards.
Protect Your Cards
The aluminium Cardprotector protects your cards from bending, breaking and unwanted RFID and NFC communication.
Carry What You Need
Forget bulky pockets, Secrid Wallets are small, lightweight, and are designed to match your daily wallet needs.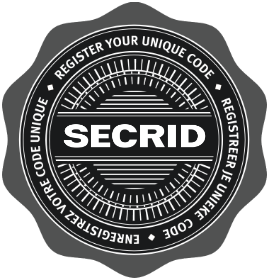 Secrid Warranty
All Secrid wallets come with a two year warranty via the manufacturer. Register your Secrid Wallet at register.secrid.com for a third year of guarantee plus a certificate of authenticity.
*Warranty guide (including terms and conditions) sent with wallet packaging or available at the Secrid Website. Warranty is offered and fulfilled by the product manufacturer and not our store.
Shipping & Returns
We ship all orders directly from our Nanaimo menswear store to anywhere in Canada or the USA. Estimated delivery time 5 – 10 business days.
You will receive free shipping on all orders over C$75.00 to anywhere in Canada. For orders under C$75.00, a flat rate of approximately C$15.00 will apply.
We ship all items directly from our Nanaimo menswear store with Canada Post Expedited mail as our first preference delivery method. We aim to fulfill all orders within 2 business days. Once fulfilled, orders typically take between 5-10 business days to arrive depending on your location.
If you live nearby or are visiting Nanaimo, in-store pick up will always be a free option at our brick and mortar location. All our products are available for same day pick-up (no need to wait for email confirmation once the order has been placed).
Our retail store is located at 206 Commercial Street in downtown Nanaimo (V9R 5G7, British Columbia). Feel free to drop by during our opening hours, 10:00am - 5:00pm, 7-days a week. We will hold onto your order for as long as you need (no time limit for pick-up).
For Canadian orders We accept all returns, including change of mind returns, in exchange for store credit or alternative products. The products must still be in brand new condition with tags (it's ok if you've tried them on!). If you're returning for warranty or defective purposes, please contact us for more information as the process may be via the product manufacturer.
Unfortunately for hygiene reasons, socks and underwear are unable to be returned. For all other returns, we appreciate being contacted at 250.716.3331 or [email protected] within 30 days of receiving the product to initiate a returns process.
Find Your Style
At any given time we have over 100 different Secrid Wallets in stock, available to purchase online or in-store. Check out our Secrid Wallet styles today.
Moneybands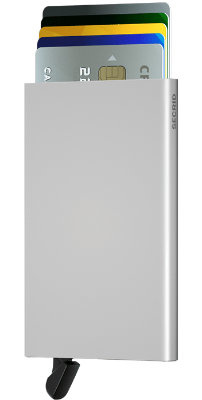 Cardprotectors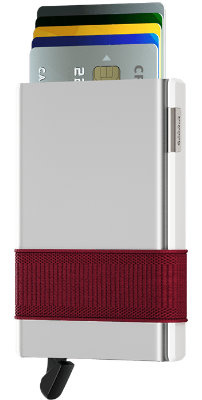 Cardslides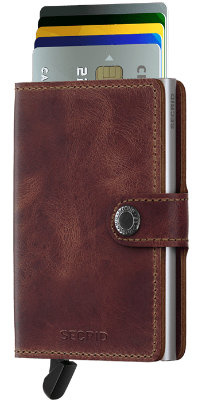 Miniwallets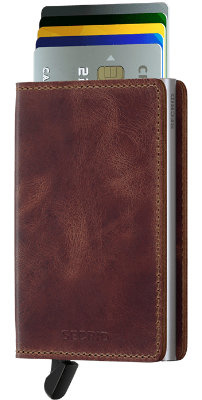 Slimwallets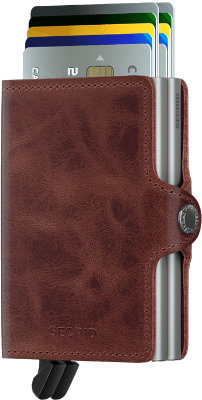 Twinwallets
About Secrid
Secrid, a Dutch creative company founded in 1997 based on one dream: their own design label with unique products. In 2009 their dream became reality with the launch of their first product; A compact wallet which brings fashion and industrial design together, yin-yang.
This yin-yang mindset started with the designer couple who together form the foundation of Secrid: Marianne van Sasse Van Ysselt and René van Geer. The balance is found in everything they do, from the choices they make, to the composing of the teams and the designing of each collection. While Marianne creates the collections with her feeling for trends and fashion, René designed and develops the patented Secrid mechanism. This mechanism can be found in every Secrid wallet, which allows for quick access to your 6 most important cards with one click.
Headquarters:
Den Haag, Zuid-Holland (Netherlands)
Specialties:
Wallets, RFID protection, Fashion, and Pocketwear
View More From Secrid
About Our Store
NYLA Fresh Thread is a 100% locally-owned men's clothing shop operating on beautiful Vancouver Island, British Columbia. Owner Leon Drzewiecki opened the store in 2014 to support his three boys and to help boost his community with a place where anybody can enjoy shopping for high-quality menswear. Thanks to our wonderful customers, we've been lucky enough to win 'Vancouver Island Retailer of the Year' and 'Nanaimo Best In The City Menswear' on multiple occasions.
All of our products are from trusted brands as we believe that clothing should last you years in terms of both style and integrity. We always try our best to accommodate for every size, budget, and style with a clothing selection that ranges from the business styles of New York to the casual looks of Los Angeles.
Everybody is welcome to visit our store – we do not tolerate discrimination of any kind. If you have any questions or concerns, please feel to reach out to our team!